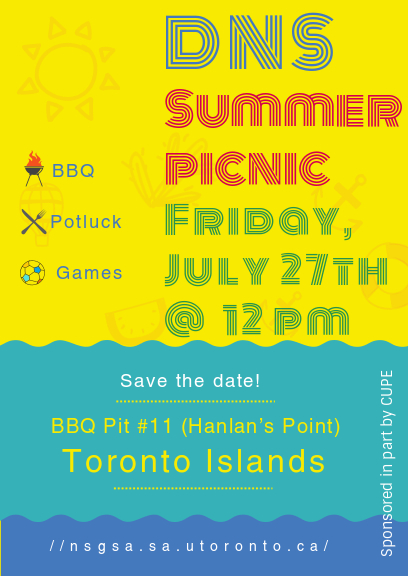 Summer is just around the corner, which means that so is our annual Toronto Island Summer Picnic! The DNS & NSGSA welcome you to take an afternoon off and join us, with your family and friends, for food, fellowship, and fun ☀
WHEN: Friday, July 27 @ 12 pm
WHERE: BBQ Site 11, Hanlan's Point, Toronto Islands
*Free* light lunch basics will be provided (i.e., beef and veggie burgers and drinks), but in keeping with tradition we would ask that everyone bring a dish to share!
The NSGSA is offering a ferry tickets at a reduced rate of $5 until July 20th. To sign up: (1) provide $5 in seminar starting May 10th or to Louisa in the office; and (2) add your name to the list and indicate what you plan to bring here.
Come out to enjoy the beautiful weather, wonderful company of your friends and colleagues, and some fun and games throughout the day, too 🙂
We are looking forward to seeing everyone there!
(This event is sponsored in part by CUPE.)