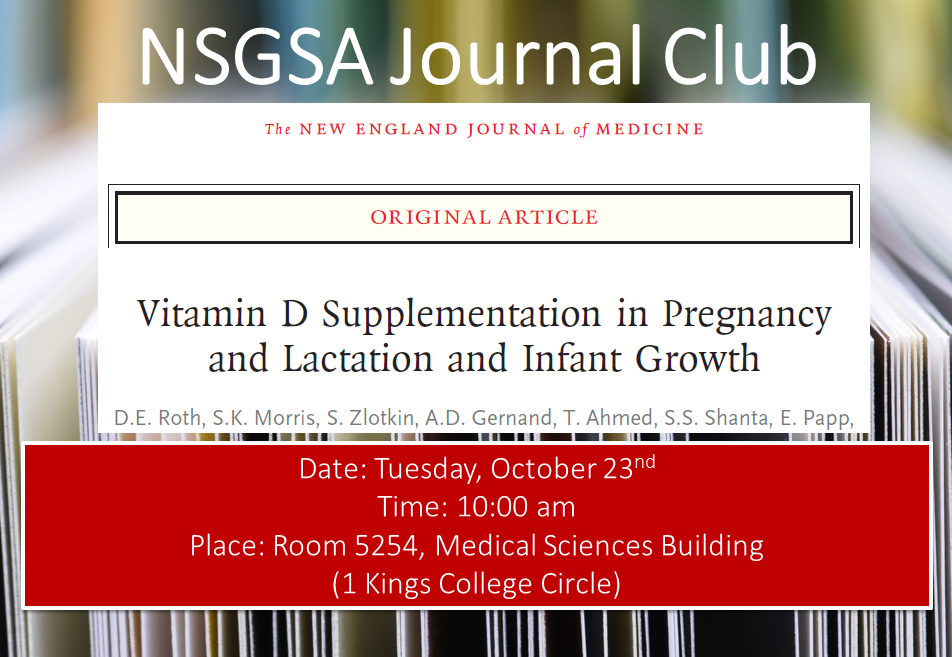 Join us for our next journal club on Tuesday, October 23! We will be discussing a fascinating, recently published article out of the Roth lab in NEJM.

When: Tuesday, October 23
Time: 10 – 11 am
Where: Room 5254, Medical Science Building
Citation: Roth DE, Morris SK, Zlotkin S, Gernand AD, Ahmed T, Shanta SS, Papp E, Korsiak J, Shi J, Islam MM, Jahan I, Keya FK, Willan AR, Weksberg R, Mohsin M, Rahman QS, Shah PS, Murphy KE, Stimec J, Pell LG, Qamar H, Al Mahmud A. Vitamin D Supplementation in Pregnancy and Lactation and Infant Growth. N Engl J Med. 2018 Aug 9;379(6):535-546. doi: 10.1056/NEJMoa1800927.
Vitamin D supplementation is always a hot topic, and this RTC looking at the effect of vitamin D supplementation during pregnancy on infant growth (or lack thereof, in this case) is really interesting! A light snack will be provided.