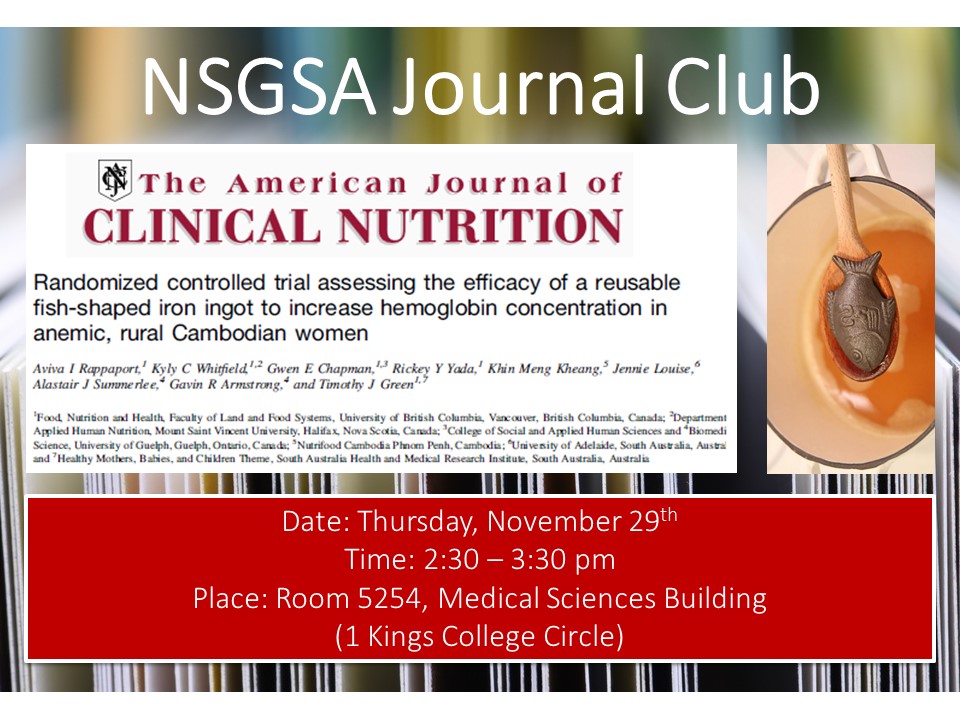 Join us for our next journal club on Thursday, November 29! Promoted as a natural source of iron to prevent iron deficiency and anemia, the Lucky Iron Fish has recently received funding on CBC's 'Dragons' Den.' We will be discussing whether, based on the results from a recent RCT, the lucky iron fish should be considered efficacious in reducing anemia and iron deficiency.
WHEN: Thursday, November 29
TIME: 2:30 – 3:30 pm
WHERE: Room 5254, Medical Science Building
CITATION: Rappaport AI, Whitfield KC, Chapman GE, Yada RY, Kheang KM, Louise J, Summerlee AJ, Armstrong GR, Green TJ. Randomized controlled trial assessing the efficacy of a reusable fish-shaped iron ingot to increase hemoglobin concentration in anemic, rural Cambodian women. Am J Clin Nutr. 2017 Aug;106(2):667-674.
**a sweet treat will be provided**
We hope you can attend for what will be certainly be an interesting discussion!