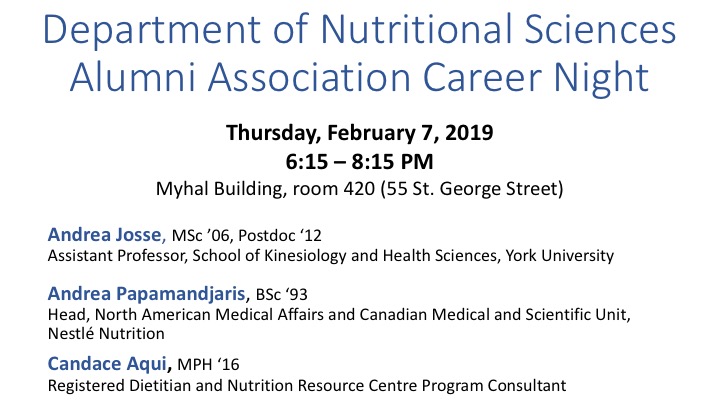 The Department of Nutritional Sciences Alumni Association Invites You to a Career Night
Nutritional Sciences alumni working in academia, the private sector and a government agency, will provide insights into the journey of how they got the great careers they have now. Anyone thinking about careers following their nutritional sciences degrees or would like to re-connect with fellow alumni are welcome.
Join us at 6:15 pm for a career panel hosted by Nutritional Sciences Alumni Association President, Laura Pasut. Networking reception with light refreshments to follow.
David Ma – Professor and University Research Leadership Chair, Human Health & Nutritional Sciences, Guelph University
Andrea Papamandjaris – Head, North American Medical Affairs and Canadian Medical and Scientific Unit, Nestle Nutrition
Candace Aqui – Registered Dietitian and Nutrition Resource Centre Program Consultant
Date: Thursday, February 7, 2019
Time: 6:15 PM to 8:15 PM
Location: Myhal Building, Room 420
55 St. George Street
Toronto
Primary contact: Karen Lee (kare.lee at utoronto.ca)
Please register here.